CAD/CAM materials
The material system for your digital workflow
TCR Mono & TCR Multi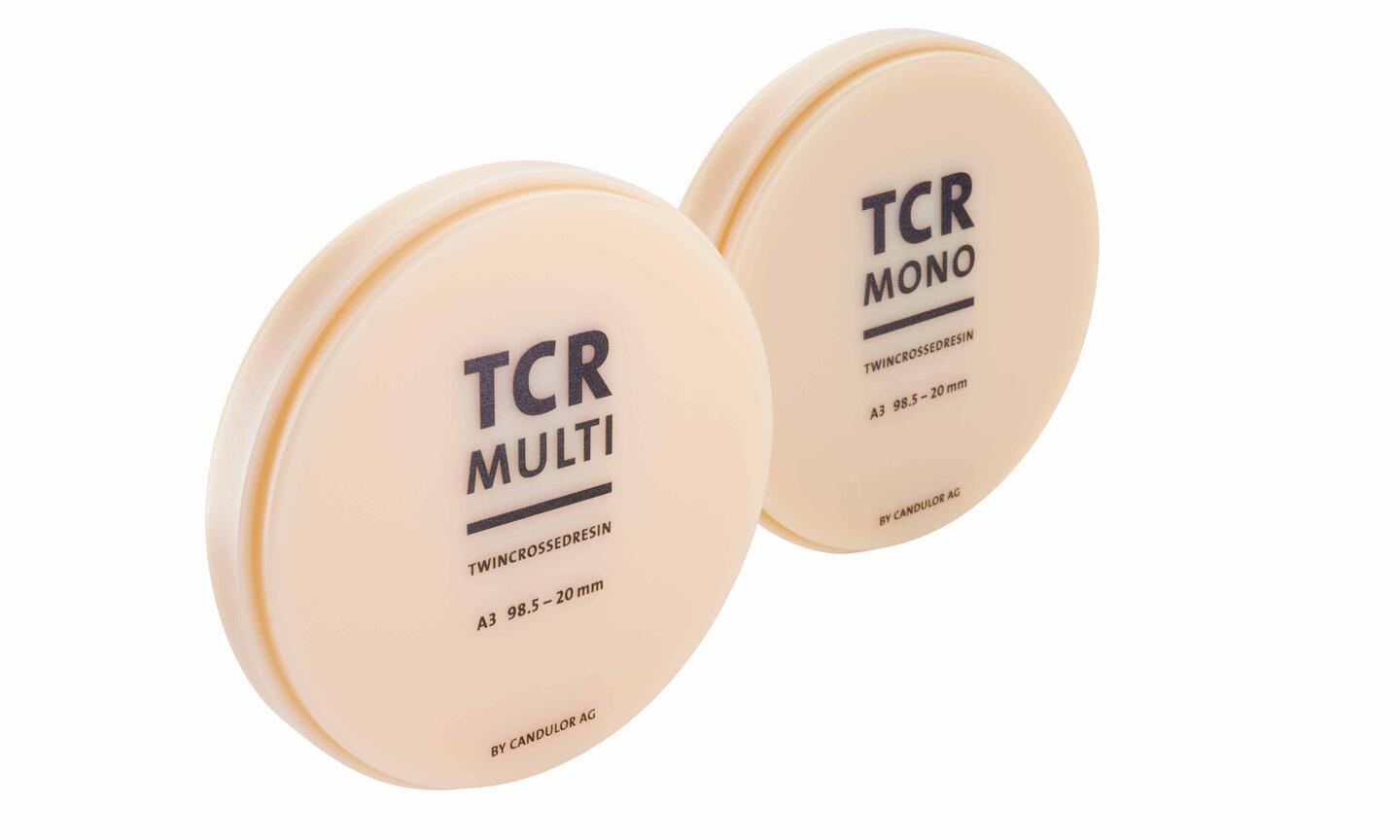 TCR Mono & TCR Multi
The TCR Mono and TCR Multi disks represent the two new family members in the TCR family of materials. The TCR Mono is a tooth-colored, monochromatic stained disk. With the multichromatic stained TCR Multi Disk, the harmonious color gradient ensures a high level of esthetics. Subsequent characterization of the teeth is therefore no longer necessary.
Application possibilities
Single teeth
Tooth segments
Full dentures
Hybrid dentures
 
The entire product family is made of durable TwinCrossedResin, the 3rd generation TCR material. This is a highly modified type of polymethyl methacrylate (PMMA) variant in which both the polymer as well as the matrix are cross-linked. This is achieved by producing highly crosslinked polymer in combination with a crosslinked matrix. This ensures good abrasion resistance and resistance to plaque*.
The TCR Mono and TCR Multi disks are available in shades A1, A2, A3, A3.5, B1, B3, C2 and D2, analogous to the shades of the PhysioSet TCR and PhysioSelect TCR tooth lines. In addition, the bleach shade BL3 is also offered. 
TCR material family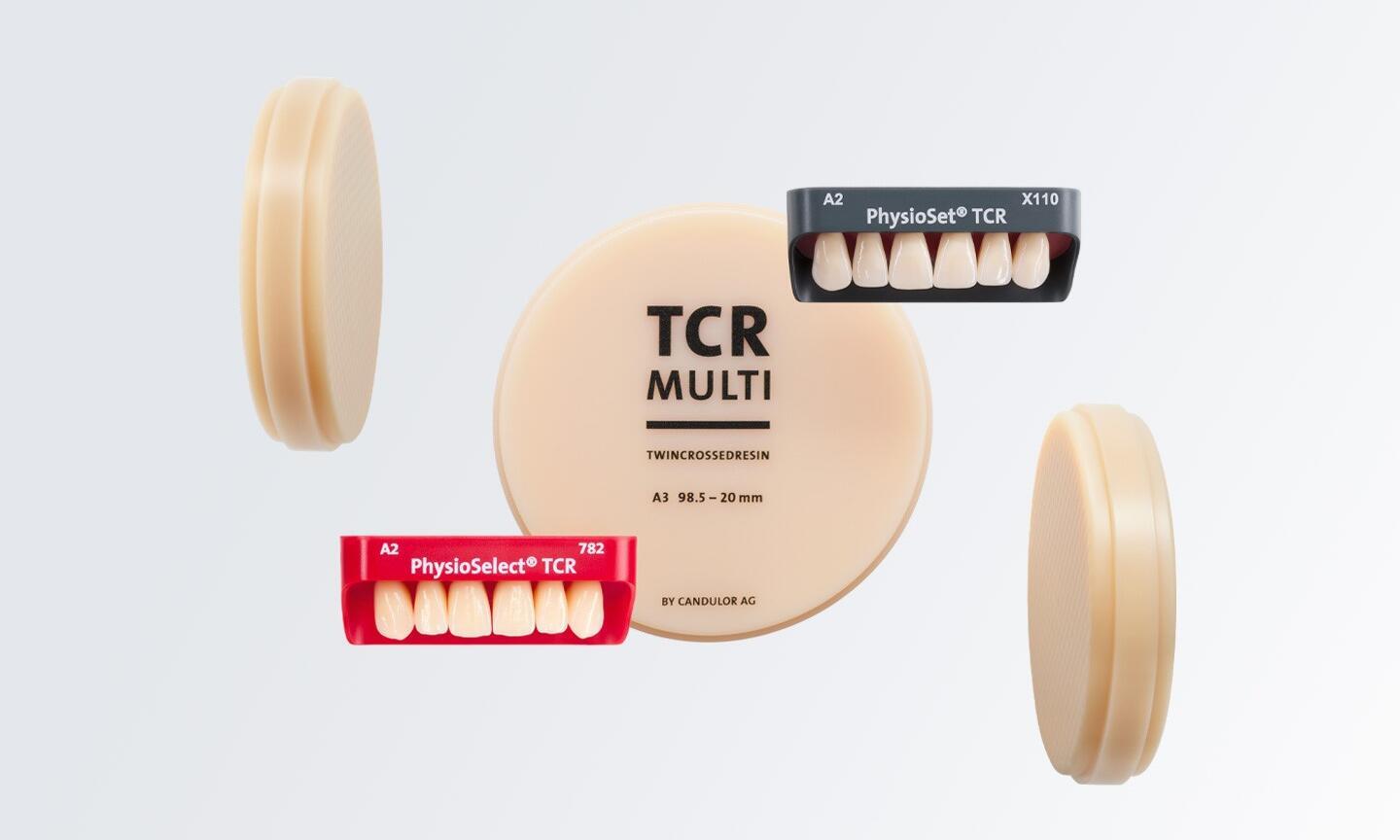 TCR material family
TCR Mono and TCR Multi can also be combined with the PhysioSet TCR and PhysioSelect TCR tooth lines in hybrid fabrication.
XPLEX Base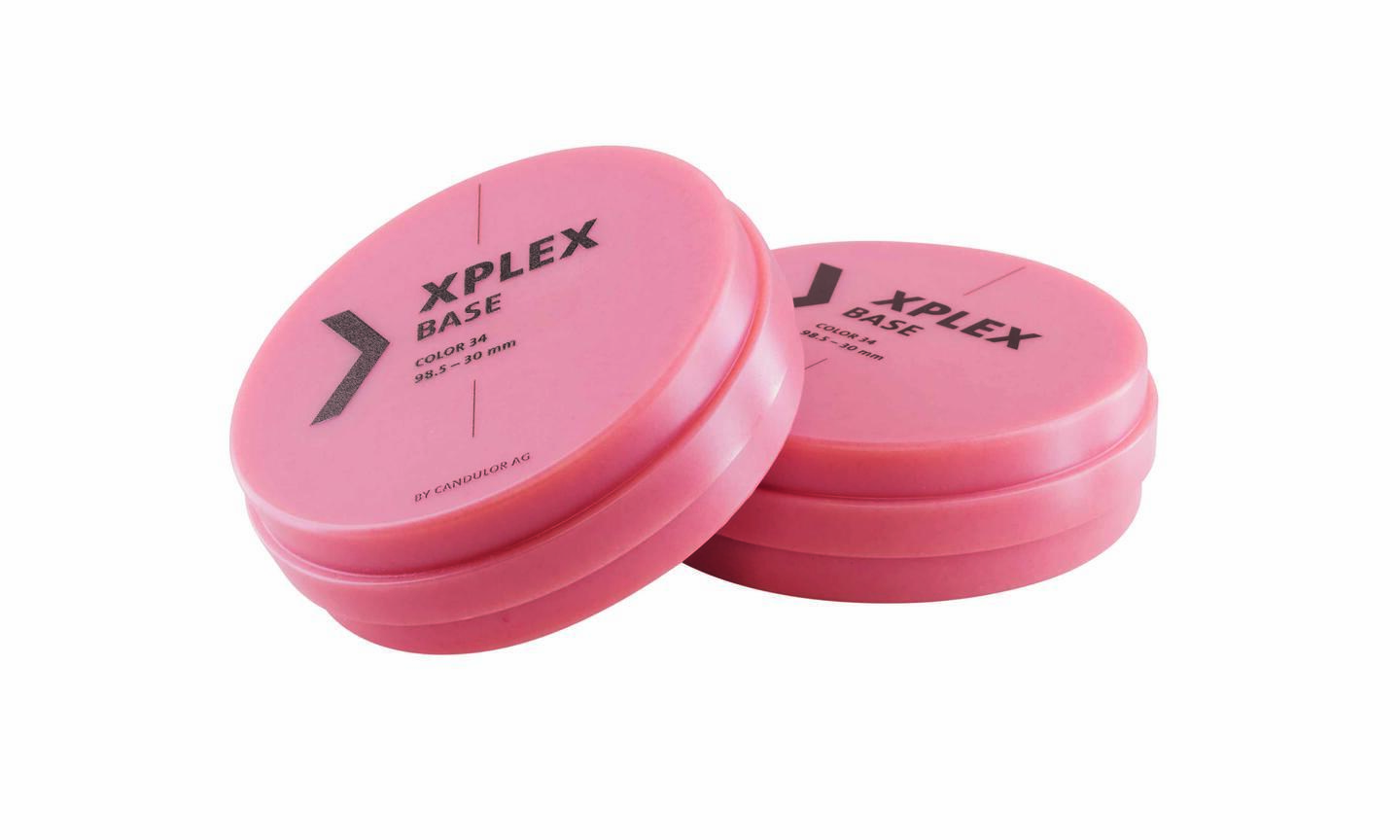 XPLEX Base
With the gingiva-colored XPLEX Base high-impact milling disks, we offer materials for the CAD/CAM-supported fabrication of denture bases. The disks are matched in shade and material to the impact-resistant XPLEX denture material.
Fields of application
Full dentures
Duplicate full dentures
Immediate full dentures
Overdentures
The entire XPLEX product family consists of high-impact material with improved physical properties. The disks offer high fracture strength as well as significantly higher fracture resistance compared to conventional PMMA materials. In addition, the material impresses with low discoloration and plaque adhesion, good polishability and a good bond to the denture teeth.
Shades
1 Soft Pink – transparent, not veined
5 Pink – transparent, veined
34 Original Pink – semi-opaque, veined
XPLEX Bond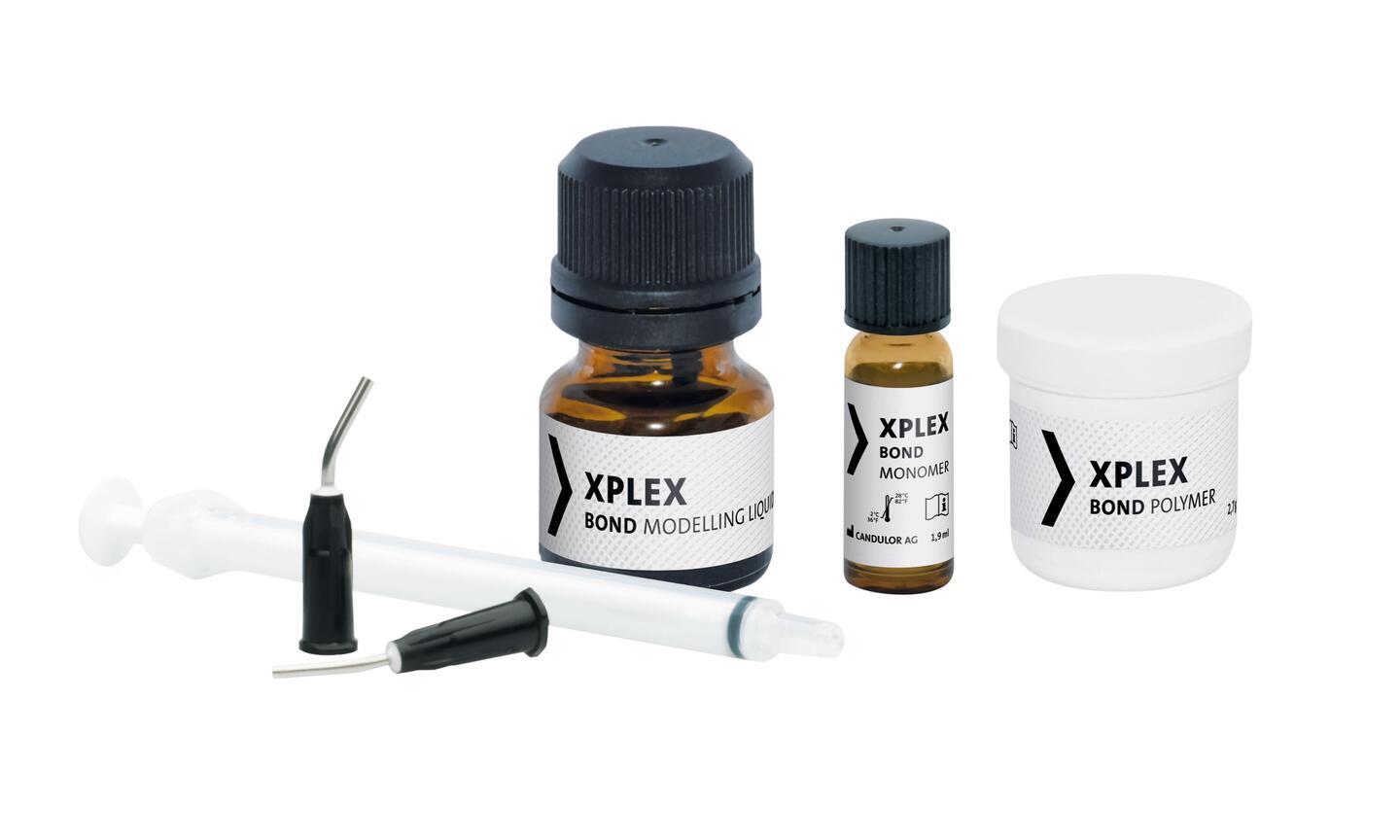 XPLEX Bond
XPLEX Bond, the autopolymerizing PMMA-based composite, was developed specifically for the XPLEX family of materials. It is suitable for perfect bonding of the milled or prefabricated denture teeth to the milled denture base.
Advantages
Easy to apply
Single doses for clean working
Good bonding
Long processing time (approx. 10 minutes after starting mixing)
CAD/CAM materials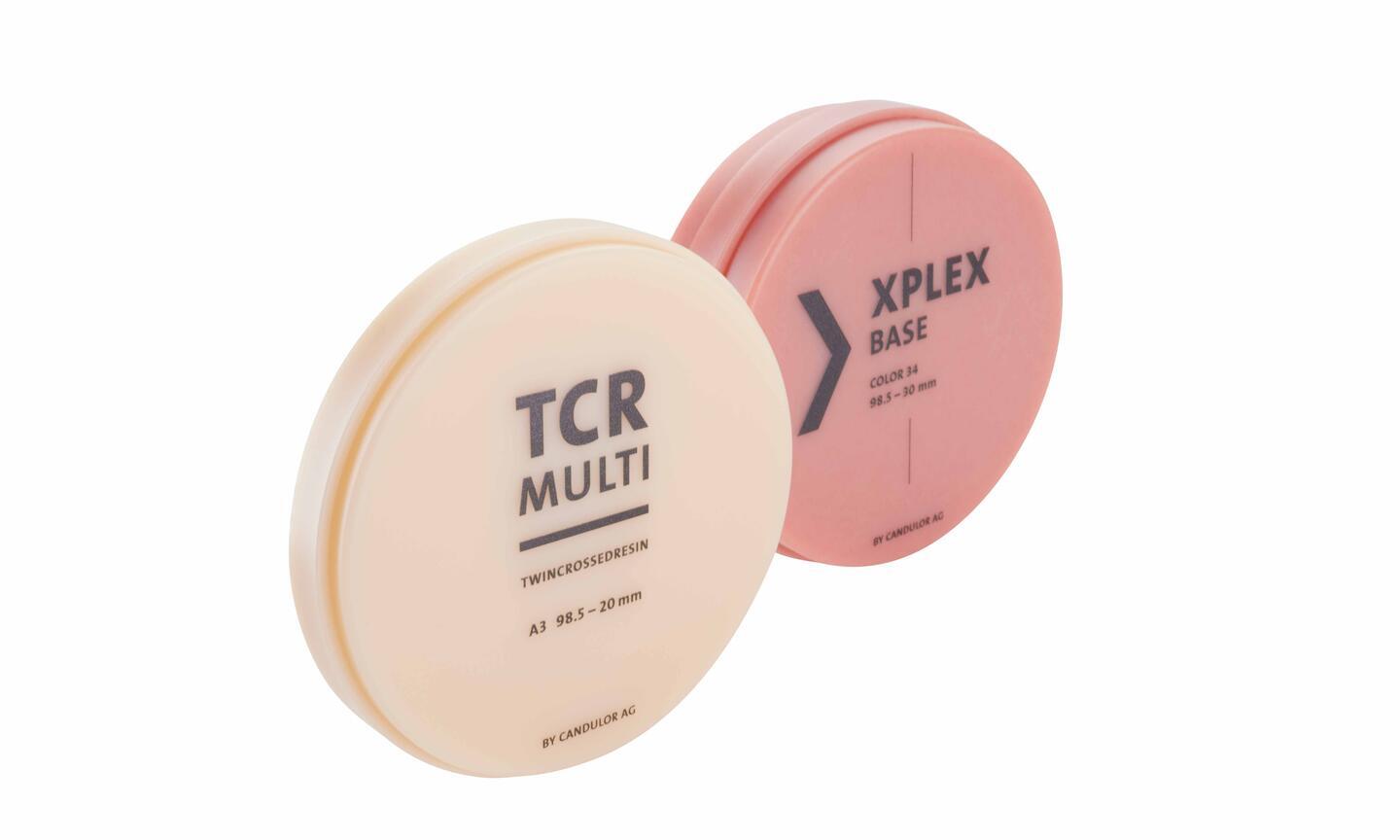 CAD/CAM materials
With the combination of the TCR Mono and TCR Multi disks and the XPLEX Base denture base material, individual dental arches, tooth segments and denture bases can now be milled for the first time.
You might also be interested in:
Support: CAD/CAM Material
Interested?
Simply send us your contact data – we will contact you promptly.
* Abrasion resistance, clinical study over 2 years; plaque resistance measured in the laboratory