NEW. XPLEX - THE DOUBLE MAKER 
CANDULOR AG launches new HIGH-IMPACT resin with a poly-mer for dual use.
XPLEX is a dual use high impact modified hot and cold polymer for dentures. Product per-formance such as, for example, impact resistance meets the requirements of the EN ISO 20795-1 standard. The high-impact modification improves the physical properties of the mate-rial and thus offers high fracture strength.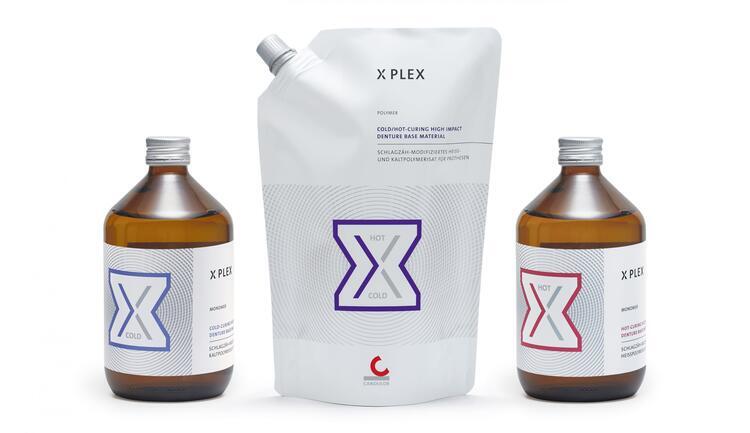 THE 2 IN 1 POLYMER. 
The new polymer is suitable for cold and hot polymerization. Whether mixing or applying, the choice of HOT or COLD processing, is governed by the respective HOT or COLD monomer component.
ONE SYSTEM. NUMEROUS ADVANTAGES.
The laboratory has the option of responding to the different preferences of the technicians, who are free to choose the method of completion. Whether packing, pressing or pouring, the different processing methods are covered within the system. COLD or HOT – XPLEX is a system with only three components. This enables optimized stock keeping and limits the source of errors. Corrections and repairs can be performed with XPLEX COLD within the system. 
Furthermore, the resin meets the standard requirements of customers: easy to dose, bubble-free workpieces, low discoloration and plaque adhesion, good polishability as well as a good bond to denture teeth. 
Cold processing
Full dentures
Partial dentures
Combined dentures
Implant prosthetics
Repairs
 
Hot processing
Full dentures
Partial dentures
Combined dentures
Implant prosthetics

PROCESSING.
The extended processing time was one of the most important aspects during development, to ensure that the technician feels comfortable with processing and is not put under stress.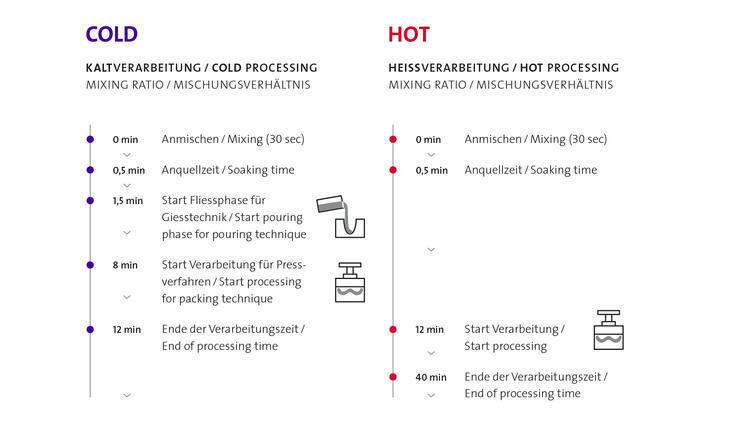 LEGENDARY SHADES.
The CANDULOR shades for denture resins are legendary and set a standard in removable dentures. The original «Shade 34» semi-opaque denture resin has often been copied but nev-er surpassed. In addition to shade 34, the XPLEX portfolio includes the standard shades 1, 3 and 5 as well as the characterization shades 53, 55 and 57.
FORMS OF DELIVERY (AS OF NOVEMEBER 2020).
XPLEX HOT Monomer 150 ml and 500 ml
XPLEX COLD Monomer 150 ml and 500 ml 
XPLEX HOT/COLD Polymer 100 g (shades 34, 53, 55 and 57) and 500 g (shades 1, 3, 5 and 34)
XPLEX TRIAL KIT (100 g polymer in shade 34, 150 ml HOT Monomer, 150 ml COLD Monomer)
Pack of 6 XPLEX HOT/COLD Polymer 500 g (shades 1, 3, 5 and 34)