NEW. KNOWLEDGE CONNECTS: SWISS SCHOOL OF PROSTHETICS by CANDULOR
CANDULOR AG launches new further education program "Swiss Denture Program" 
One of the pioneering origins of modern removable prosthetics lies in Switzerland, to be more precise, in Zurich. GYSI and GERBER researched, taught and developed their comprehensive prosthetic treatment and solution strategies, including groundbreaking occlusion concepts, articulators, facial bows, artificial teeth, cylinders for overdenture restoration to mention just a few. To this day, their work has significantly influenced gingival, periodontal and today's implant supported removable prosthetics, including numerous anatomical-physiological basics.
Swiss School of Prosthetics by CANDULOR
The Swiss School of Prosthetics by CANDULOR is the new Swiss quality brand for continuing education in the field of removable prosthetics, the removable dentures. Created in Switzerland, at home in the world, as knowledge connects when it is shared sustainably. A global network of lecturers from teaching and practice, from dentistry and dental technology passes on their knowledge and skills on the basis of a modern prosthetic and didactically sound training concept. Initiated and sponsored by CANDULOR, who have been dedicated to this field for more than 80 years with products and training courses, with knowledge, experience, precision, esthetics and Swiss quality from their base in Zurich and its international network.
More than just standard issue
Established for dentists, dental technicians, clinical dental technicians and prosthodontists who do not simply want to offer patients a standard solution and wish to achieve greater security as a constant feature of their prosthetic success in practice and laboratory. Successfully applying knowledge and skills, whether analog or digital, requires motivation, understanding, application of skills and judgement based on experience. The modular curriculum of the Swiss School of Prosthetics by CANDULOR has been developed for their promotion. The Workbooks, which have been elaborately created for each individual module, describe the course contents in theory and practice in a relevant logical order. Didactically conceived illustrations as well as practical photo series according to the step-by-step principle support learning, but also act as a reference for everyday routines. Course-specific Lecturer Books are also available for the lecturers. Wherever a course of the Swiss School of Prosthetics by CANDULOR is held, the prerequisites are given to ensure a consistently high level of Swiss quality.
Swiss Denture Program
The syllabus consists of twelve modules, each divided into six basic and six advanced courses. They include learning, intensifying or also repeating theoretical and practical contents governing total prosthetics, periodontally or endosseously supported overdentures as well as removable tertiary constructions in line with the current state of the art knowledge. The modular structure enables participants to follow from the basic courses to the advanced courses at an individually adapted learning pace. The modular structure for success in practice and laboratory.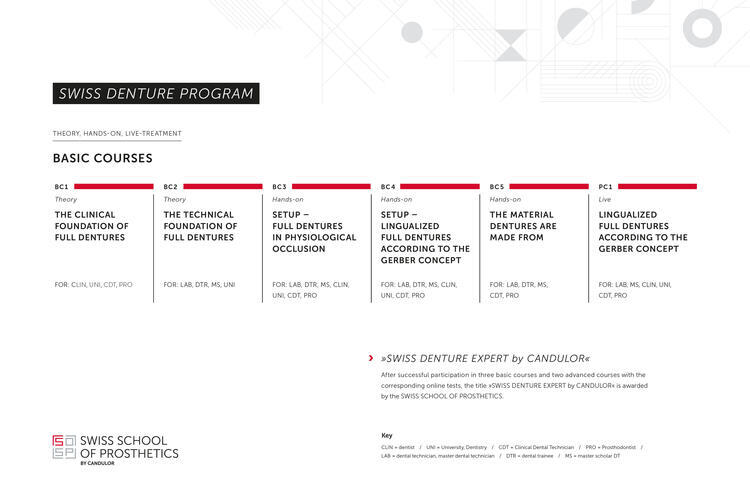 Basic course, knowledge in dentistry
The dental basis of full dentures
From impression-taking of the situation to the registration of relationships. Refreshing and deepening the knowledge basics of the often underestimated supreme discipline of full dentures for reproducible treatment success. The clinical and methodological basics of mucosa-supported full dentures include: factors influencing fixation, the selection, design principles as well as the use of suitable aids for probate clinical and laboratory working documents.
Basic course, knowledge in dental technology
The dental technical basis for full dentures
From the situation model to model assembly. Refreshing and deepening the knowledge basics of contemporary, high-quality full dentures from the situation model to the orientation of the models in the articulator for this qualified form of restorations. Full dentures are a frequently underestimated and yet demanding form of therapy that returns to a patient almost everything he/she has lost intraorally, and thus not only restores primary functionality but also the orofacial effects relating to the patient's environment. Therefore, conceptual systematic full dentures are much more than simply "setting up teeth"; they require anatomical and prosthetic knowledge as well as technical know-how for their implementation.
Basic course, hands-on laboratory
Setup – full dentures in physiological occlusion
When using the PhysioStar NFC+ anterior teeth and the Bonartic II NFC+ posterior teeth, learning the basic principles of tooth set-up in tooth-to-two-tooth occlusion is no longer an "act of wizardry" for full dentures. Based on models of solved patient cases, the systematics from the model analysis through to the placement of the last tooth are imparted, including simple techniques for self-checks in everyday routines. The systematic correction of the occlusion into centric and eccentric follows after complete tooth placement. And finally, the design of the gingiva and alveolar jaw sections is modeled in wax according to myodynamic and anatomical physiological aspects.
Basic course, hands-on laboratory and patient module
Setup – Lingualized full dentures according to the GERBER concept
Chewing stability is a decisive factor for the success of full denture restorations. Wearers of dentures often complain of painful pressure sores, inadequate prosthesis retention and limited chewing function. These constraints are largely avoided with lingualized posterior tooth placement according to the GERBER concept. Using the example of a wax-up based on a solved patient case, it is demonstrated to beginners and re-entrants alike how logically and, in principle easily, autonomous chewing stability can be learned or refreshed by applying the principles developed by GERBER for lingualized posterior tooth setup.
Basic course, hands-on laboratory
The material dentures are made from: staining, polymerizing, re-occluding, finishing. 
The implementation of wax modeling in color-characterized PMMA is the material that lends a removable prosthesis vivid contours, texture, refraction, body and thus deceptively genuine naturalness. The course conveys how and according to which principles the natural-looking "Red Esthetics" are modeled, how artificial teeth appear natural in physical terms and how the prosthetic body is designed myodynamically. A further topic is also how the bond between the artificial tooth and the denture resin remains stable for a long period and how to proceed most efficiently in re-occlusion. In addition, it will be conveyed how the effort required for finishing is already reduced during wax modeling and how finishing reflects the durability and high quality of the craftsmanship.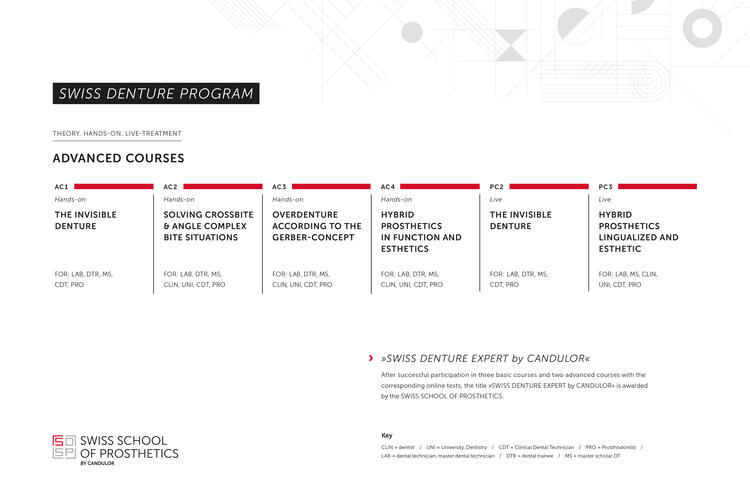 Advanced course, hands-on laboratory and patient module
The invisible prosthesis
This laboratory and patient course deals with removable dentures that are not visible to their wearer's surroundings, from wax-up to the colored "Red Esthetics" of the prosthesis body. The face-specific choice of the anterior teeth, their individual adaptation, their positioning, but also the effects of the light reflexes through the natural labial surface texture have a decisive influence on the esthetic appearance. With know-how and hands-on elements, solved patient cases and documentation (in the laboratory course) are used to learn how efficiently the individuality of the patient can be restored through prosthetics and implemented in a high-quality manner. Demanding patients want a dental prosthesis that looks deceptively natural and above all which is "inconspicuous" for their environment and themselves. The patient course focuses on the systematics and techniques employed in the practice and laboratory to implement white and red esthetics in removable dentures.
Advanced course, hands-on laboratory
Crossbite & Angle. Solving complex bite situations with full dentures. 
Lateral crossbite situations can in many cases be avoided by using the correction areas of the static lines. If this is not sufficient, a simple system of tooth setup for crossbite positions leads to autonomous chewing stability of the replacement teeth, e.g. with the help of lingualization according to GERBER.
Angle classes are relevant for the restoration of the facial profile in full dentures. The second focus of this laboratory course is the importance of the angle classes, particularly for bilateral support, and which conclusions can be drawn with regard to the positioning of the anterior teeth and thus the facial profile in order to achieve orofacial harmony.
Advanced course, hands-on laboratory
Unimaxillary overdenture restoration according to GERBER
To preserve the abutment teeth or implants, the tooth setup is applied with autonomous chewing stability and lingualized occlusion. The logic of the GERBER full denture principles for overdenture restoration based on solved patient cases is conveyed in this course module.
Advanced course, hands-on laboratory
Bimaxillary hybrid prosthetics: tertiary constructions in function and esthetics.
Removable combined tooth replacement constructions are increasingly being supported by implants. The chosen (prosthetic) occlusion concept contributes to their preservation as abutments. For the linear loading of the occlusion contacts on the support lines, both the BC contact scheme and the principle of autonomous chewing stability with the aid of tooth-to-tooth occlusion are explored in depth and applied. The topic of anterior tooth esthetics is examined in depth on the basis of solved patient cases and documentation. A further focus is on "Red Aesthetics" and its task of "visually covering" primary and secondary framework elements in a natural manner.
Advanced course patient module
Hybrid prosthetics lingualized and esthetic. 
The focus is on the systematics and techniques used in the practice and laboratory to design occlusion according to lingualized oriented occlusion in a tooth-to-tooth relationship as well as to design the white and red esthetics together with live patient care. This includes the face-specific choice of the anterior teeth, their individual adaptation and phonetic positioning, the effects of light reflection through a natural labial surface texture. In addition, this includes completion with color characterization of the anatomical-physiological gingiva and the myodynamic attachment areas of the prosthesis body.
Testing and crediting of learning success
What is remembered after the course? Where is it recommended to have another look at the Workbook? In order to find this out, the participants of the Swiss School of Prosthetics by CANDULOR can test themselves in order to derive maximum benefit for their sustainable learning success. After completing each course, participants are given access to an online test. If the test is passed successfully, each online test is counted towards the "Swiss Denture Expert by CANDULOR". Even if the decision to obtain the expert level is made later.
Competence in removable dentures – Swiss Denture Expert by CANDULOR
After successful participation in three basic courses and two advanced courses with the corresponding online tests, the title "SWISS DENTURE EXPERT" is awarded. Graduates receive a membership entitling them to an exchange of information in the knowledge and experience network of the Swiss School of Prosthetics by CANDULOR.
One foot in the practice, one foot in the laboratory
Claudia Schenkel-Thiel, Managing Director of CANDULOR, formulates the guiding idea and motivation for founding the Swiss School of Prosthetics by CANDULOR as follows: "We develop and promote the know-how in knowledge and skills equally for dentists, dental technicians and prosthodontists. Today more than ever, we live in an increasingly global dental knowledge community. They all work with their hands and systematically follow solution strategies based on knowledge, manual skills and experience. Here it is of secondary importance whether the hand is holding an impression tray, an intraoral scanner, a wax knife or a mouse. What counts for the patient's well-being in prosthetics is that dentists, dental technicians and prosthodontists correctly assess the overall situation to adequately realize the desired prosthetic solution. CANDULOR has been proactively involved with the Swiss School of Prosthetics by CANDULOR as a manufacturer of medical devices and a provider of know-how for 80 years, figuratively speaking with one foot next to the treatment chair and the other foot in the dental laboratory. Prosthetic treatment success is the result of interaction, the recognition of the respective competences. We are now collating our pool of experience together with our lecturers as structured basic and advanced courses in a new training program on removable prosthetics. This is also a contribution to providing the best in terms of total prosthetic how, wherewith and why for future generations of dentists, dental technicians and prosthodontists at a globally uniform level of quality, not losing sight of the considerable knowledge to date, expanding it in line with the times, supplementing it and conveying it professionally."
Get information now and book a course www.ssop.swiss >