Stains for Resin Teeth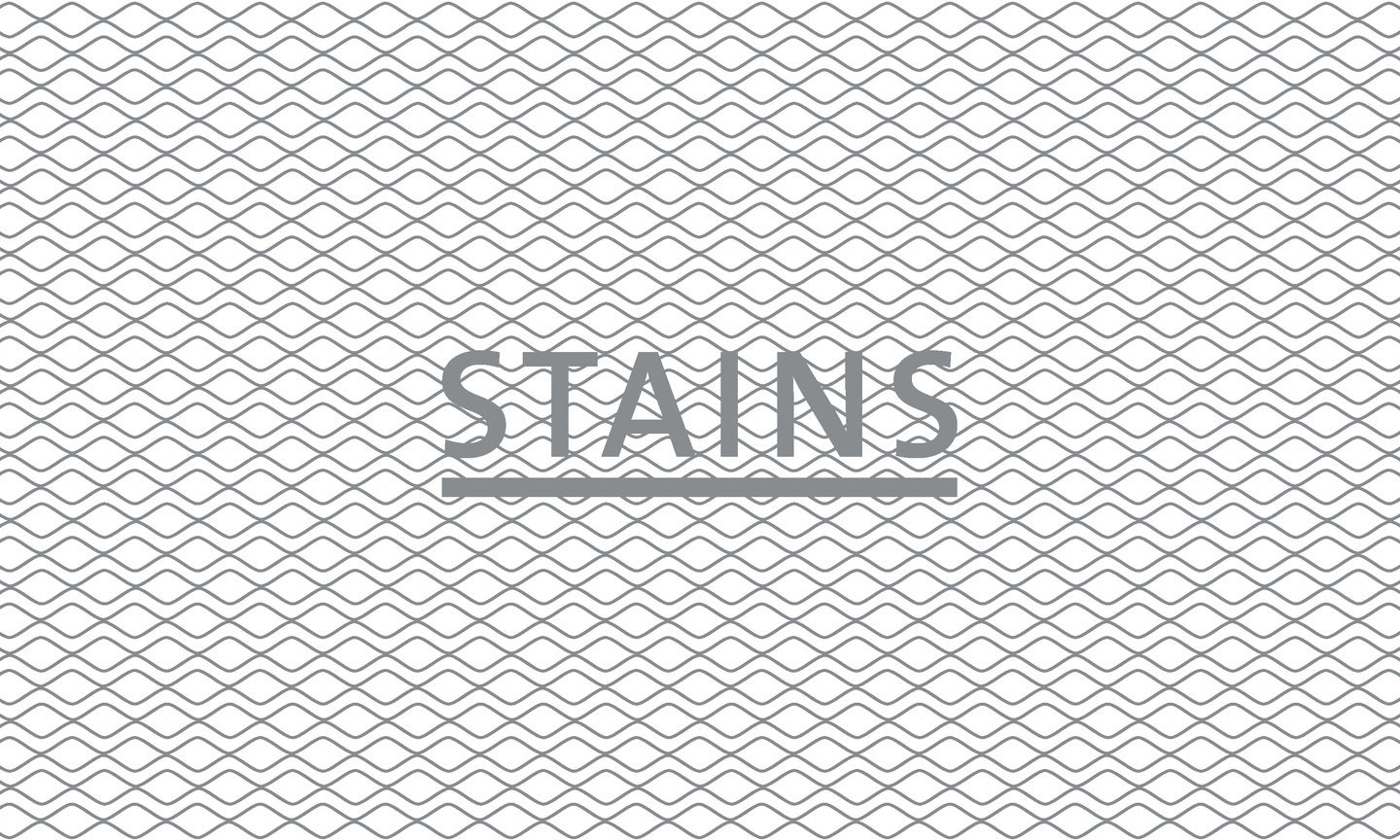 Stains for Resin Teeth
Stains for Resin Teeth are light-curing characterization stains. The stains are suitable for the characterization of composite (NFC+), TCR and other PMMA teeth. The material is distinguished by high abrasion resistance and low plaque adhesion as well as simple handling. Using the stains made of light-curing resin, individual teeth can be designed even more customized and optimally adjusted to the patient.
Advantages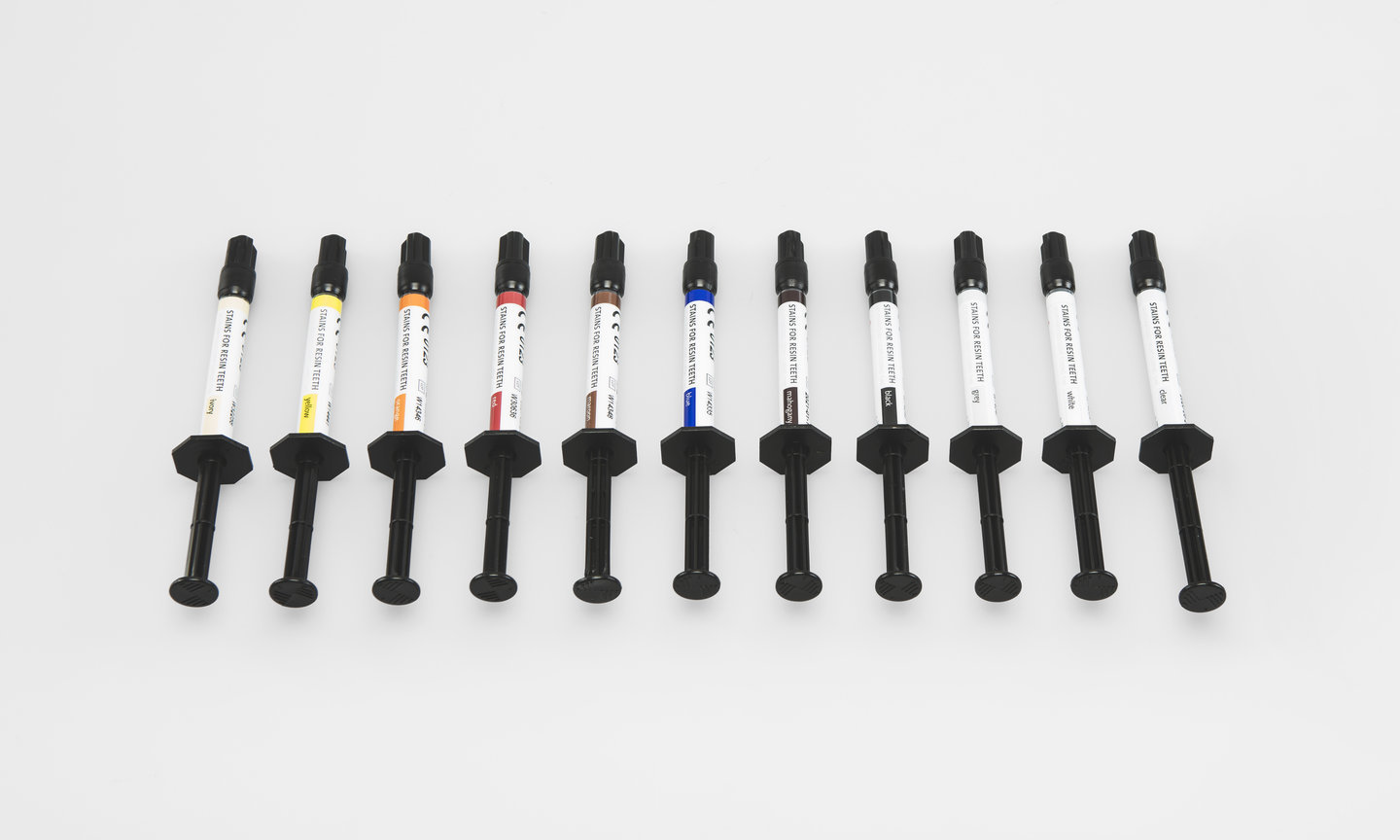 Advantages
More intensive colors, therefore more economical to use
Easy adaption through proven consistency of the paste
Easy handling and targeted application via presentation in a syringe with corresponding tip
Ready-to-use shades
Wide range of nuances in shade by mixing colors
High abrasion resistance
Low plaque adhesion
Stains for Resin Teeth composive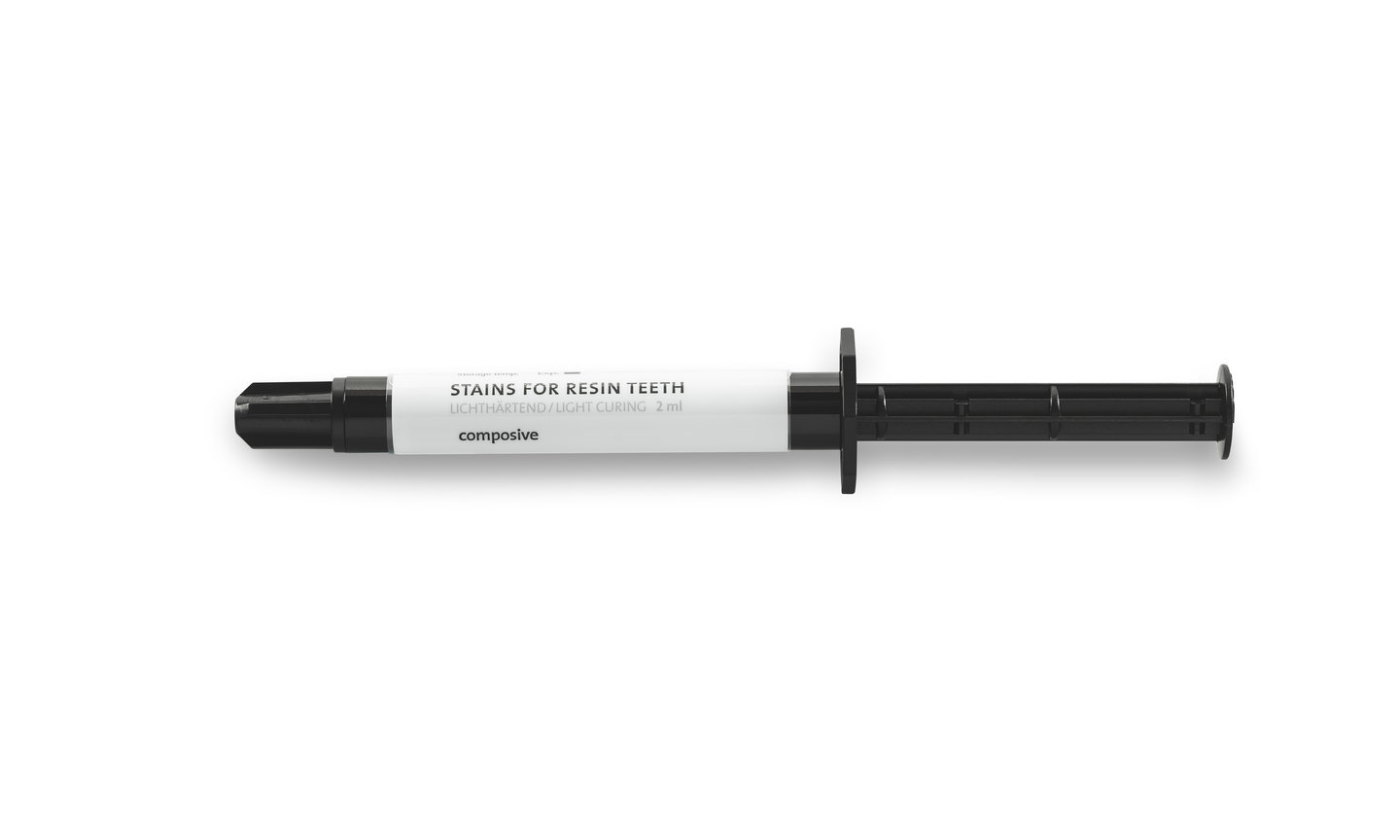 Stains for Resin Teeth composive
Stains for Resin Teeth composive is a micro-filled bonding agent for optimum bonding with veneering composite materials. It is used as a bonding material for shape modifications and shade characterizations of the CANDULOR teeth TCR Resin, Preference and NFC+.
Stains for Resin Teeth finisher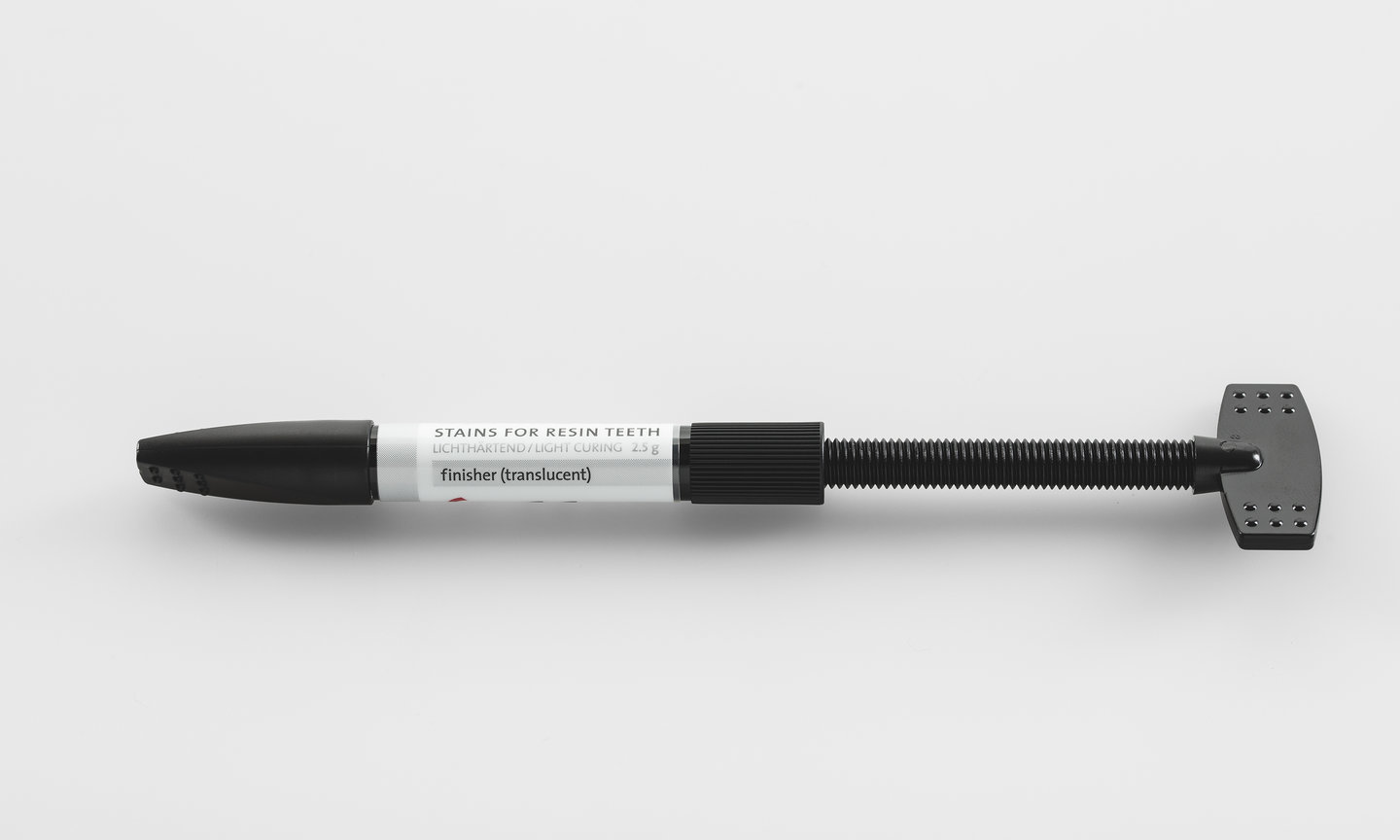 Stains for Resin Teeth finisher
Stains for Resin Teeth finisher serves to protect the characterized surfaces and can be used for minor shape corrections. For this purpose, a coating of Finisher with a thickness of 0.1 mm - max. 2 mm is applied. 
Instructions
Step 1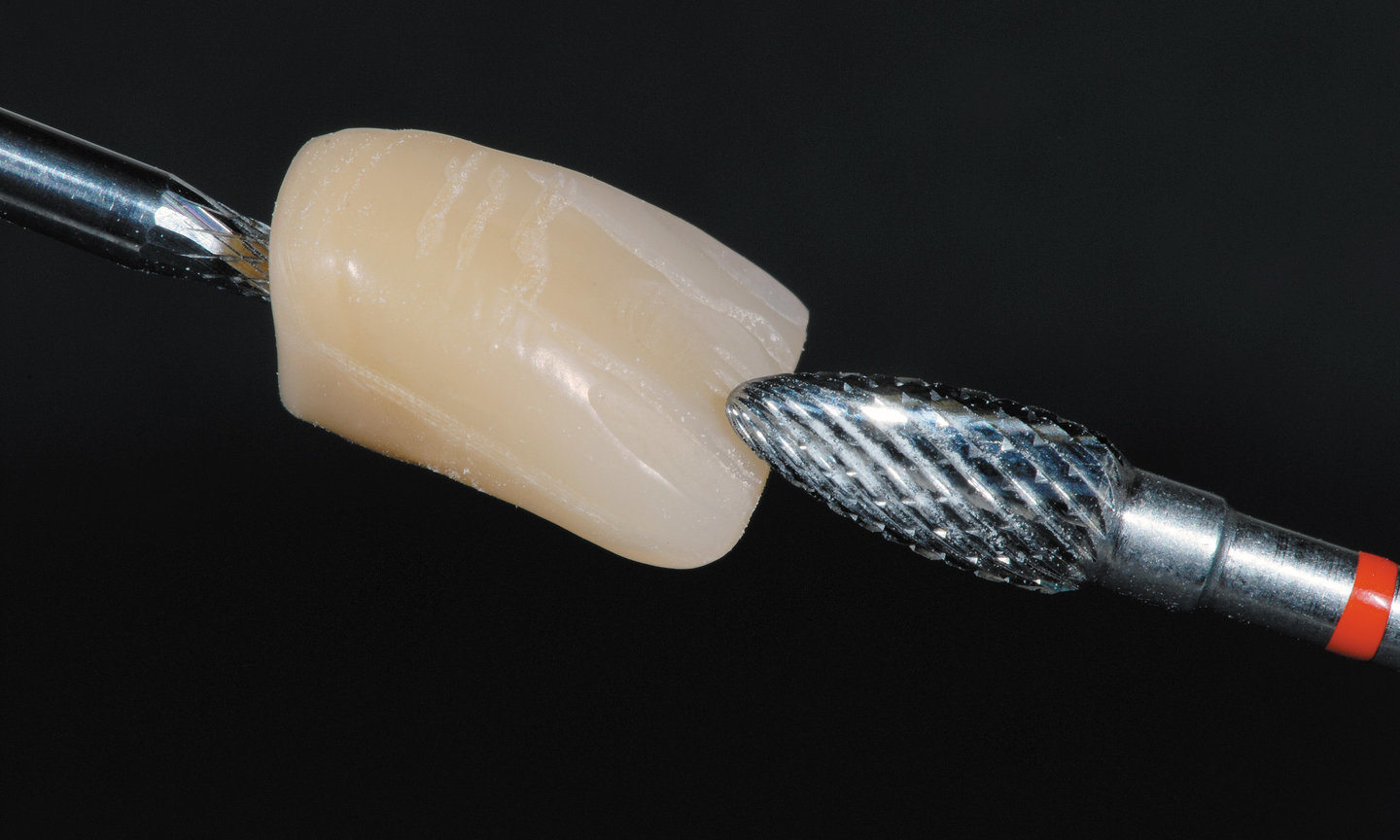 Step 1
Preparation of tooth surface to be characterized
Depending on the desired result to be achieved, the surface of the tooth to be characterized must be ground using a tungsten carbide bur. Attention should be paid to removing sufficient substance to allow for adequate material layers in subsequent processing steps.
Step 2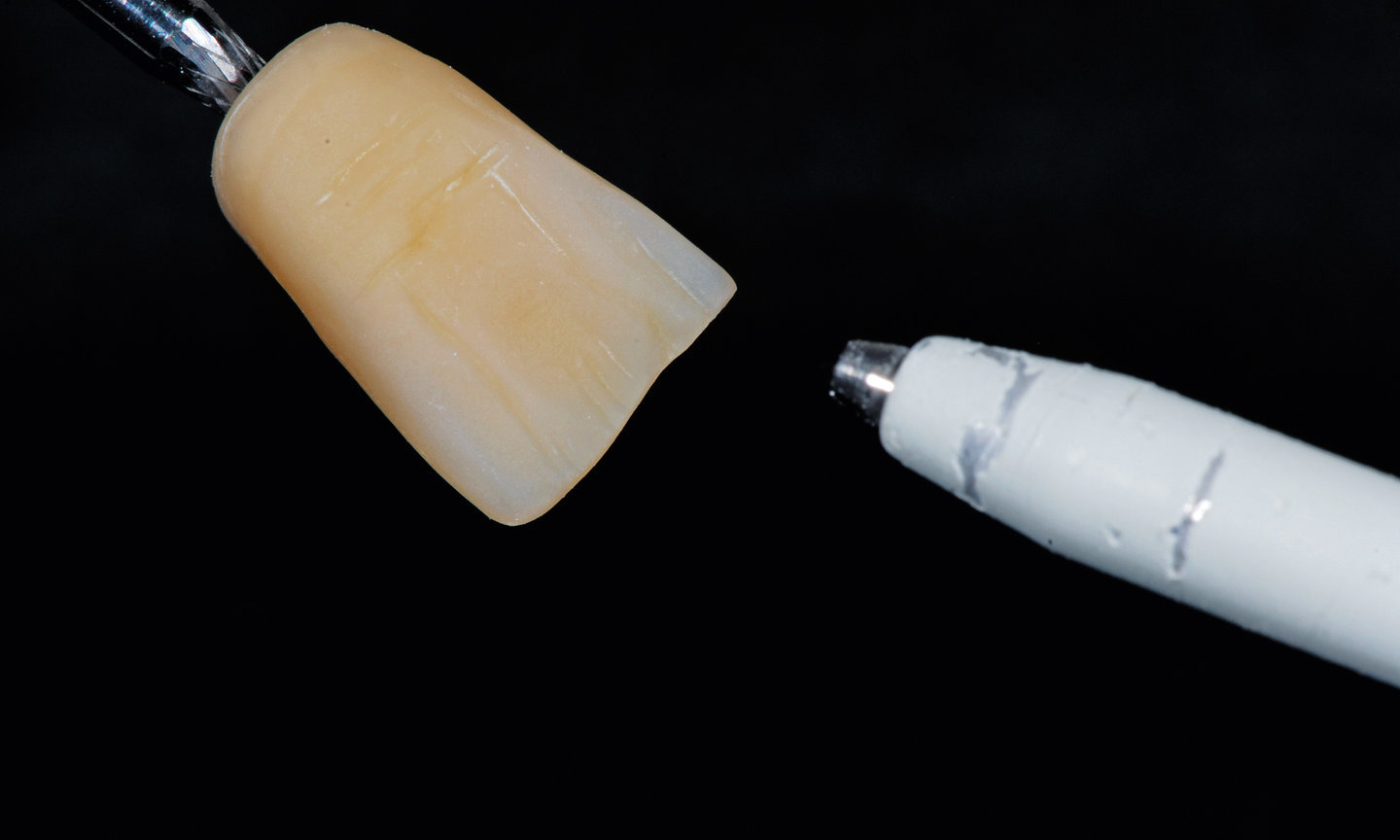 Step 2
Conditioning of veneering surface
At 2 bar pressure and 80 – 100 µm Al2O3 blasting material.
Step 3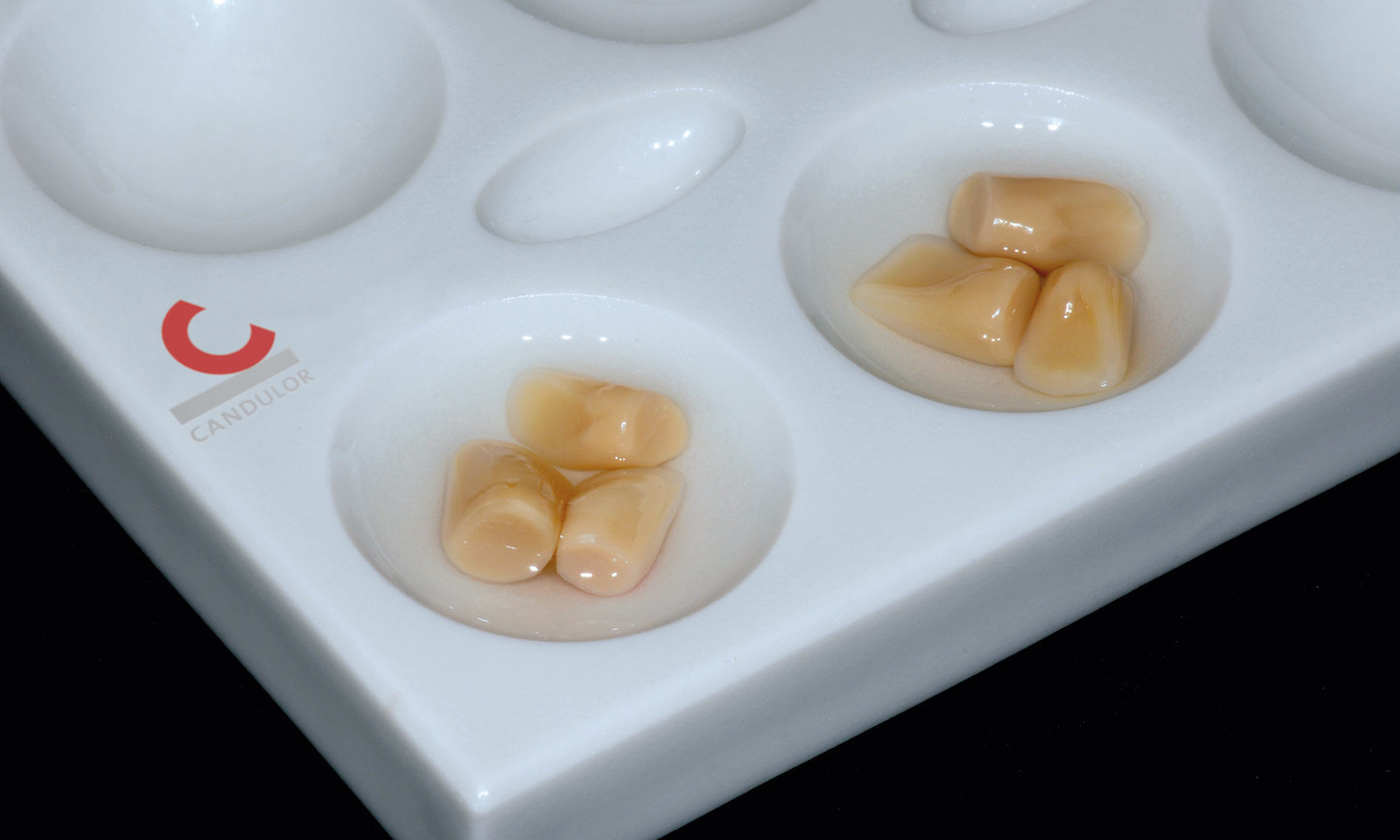 Step 3
Cleaning
Do not touch the blasted surface
with fingers anymore
rinse with water
clean with steam
The pre-treated teeth are adequately wetted with monomer for 2 - 3 min (i.e. AESTHETIC BLUE).
Step 4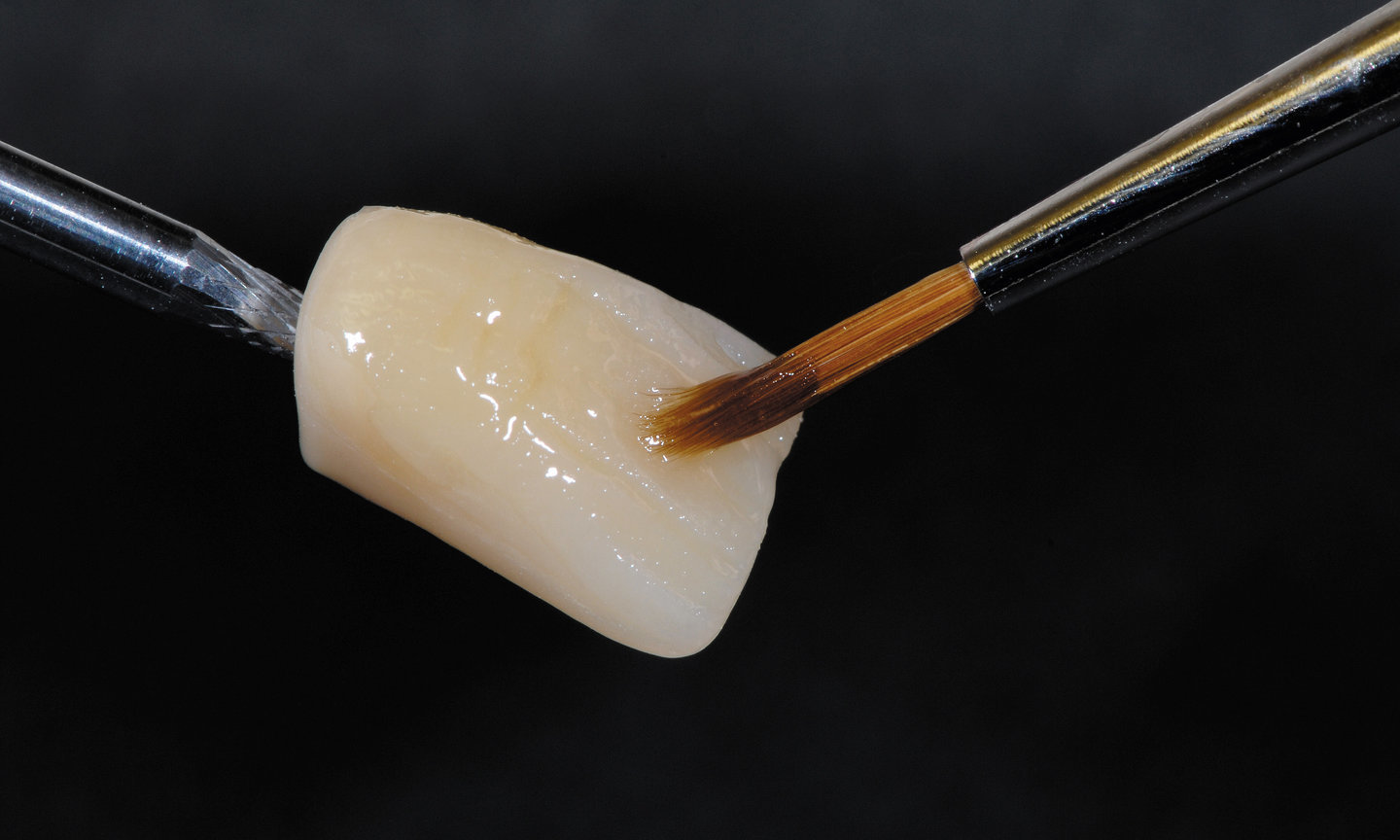 Step 4
Bond
Stains for resin teeth composive is available to create the bonding layer between the resin tooth and the veneering layer to be newly characterized. The Composive is applied directly onto the surface to be characterized and distributed evenly using a brush. Adhere to layer thicknesses of min. 0.2 mm and max. 0.5 mm. 

Polymerization
The parameters for Composive polymerization can be taken from the polymerization table.
Step 5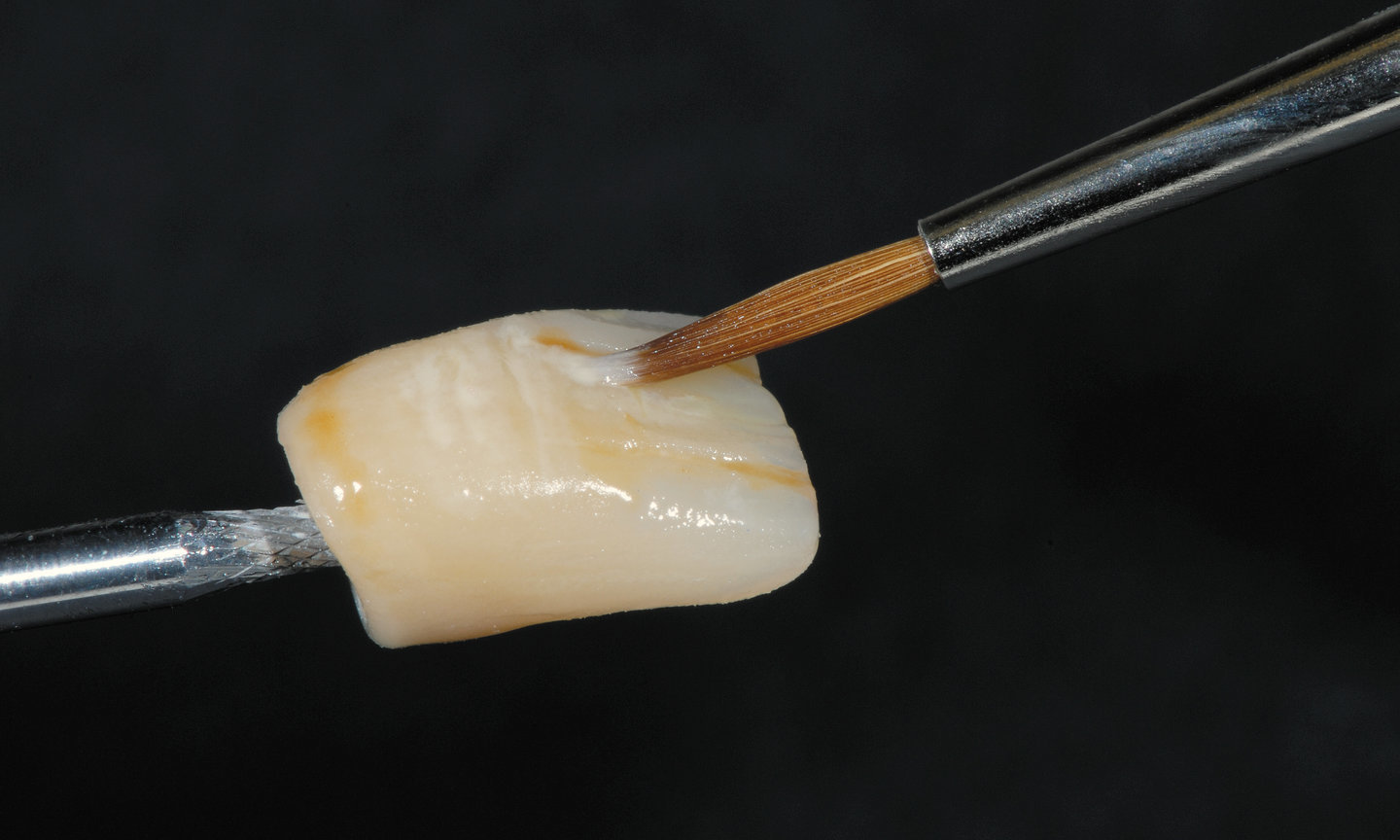 Step 5
Individual characterization
Mix the intense color stains as required and/or modify with Clear. Apply the characterizations to the polymerized Composive to suit individual requirements.
Interim polymerization 
Polymerize finished characterized surfaces according to the polymerization table, per surface and/or quadrant.
Attention 
Care should be taken that the shadow zones are also fully polymerized.
 
Step 6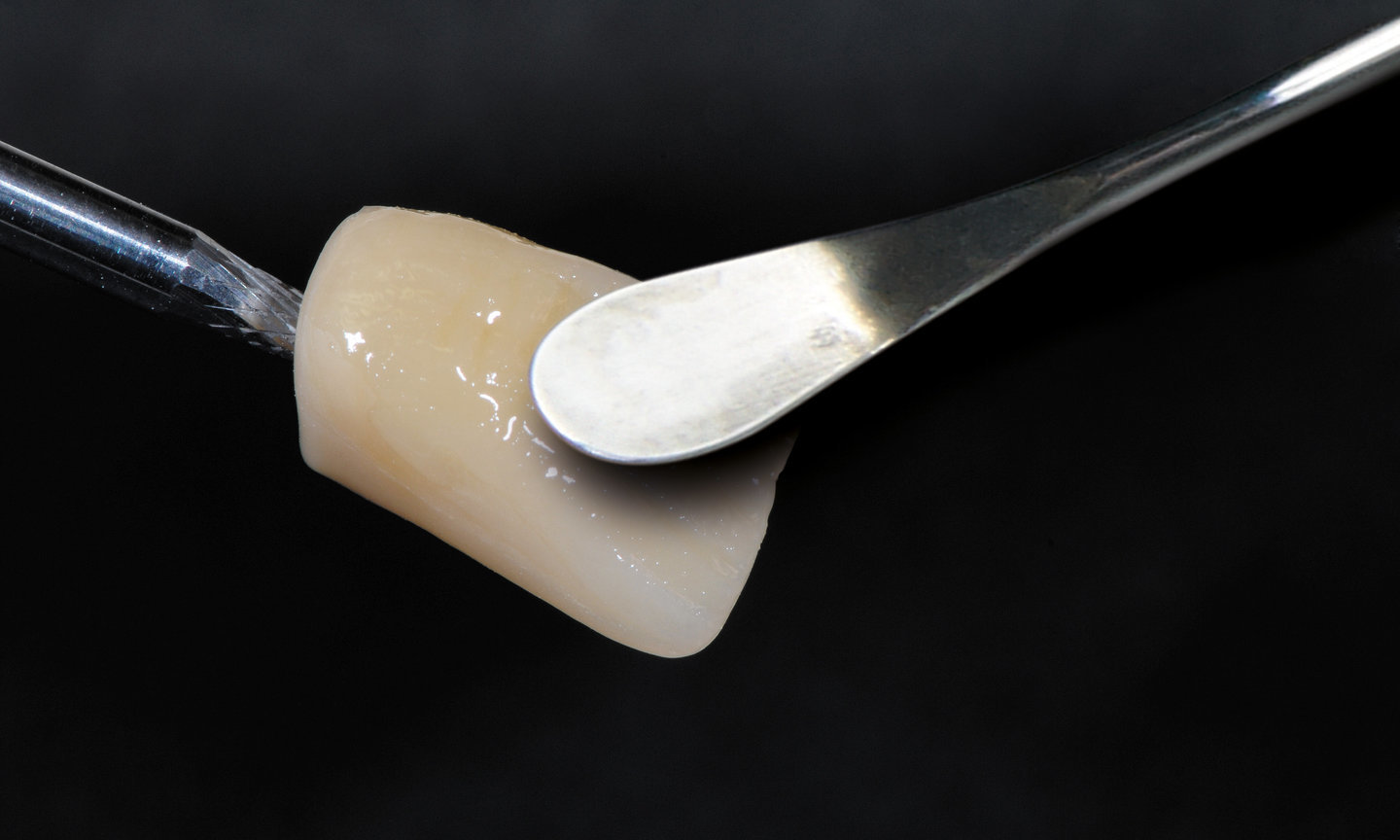 Step 6
Finisher layer
A coating of Finisher is applied between 0.1 mm to max. 2 mm to protect the characterized surface or in case of any shape modifications.
Polymerization 
Polymerize the modeled Finisher layer according to the parameters given in the polymerization table. Always work with an oxygen barrier layer which prevents the formation of an inhibition layer during final polymerization of the finisher paste. The following product is suitable for this purpose: SR Gel (Ivoclar Vivadent) as well as other commercially available products. For exact application please see the instructions for use of the respective manufacturers.
 
Step 7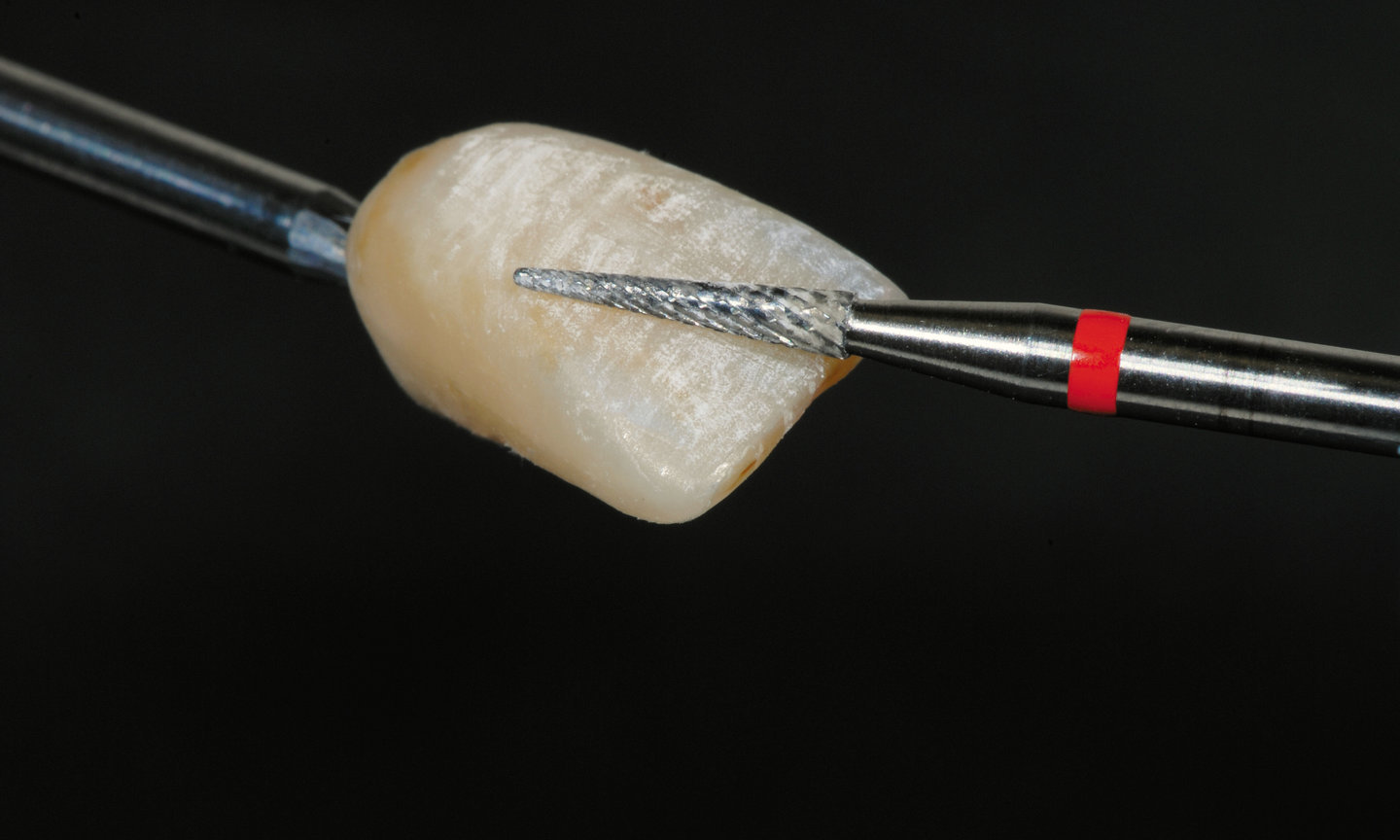 Step 7
Finishing the surface
Perform any shape corrections using a tungsten carbide bur. A soft rubber polisher is then suitable for pre-polishing. Finally, carefully polish the surface with a cotton or leather buffing wheel and KGM Paste to achieve a high-gloss finish.
Attention
In case of insufficient polish, micro-roughness may encourage deposits on the surface.
Improper polymerization may also lead to clinical failure.